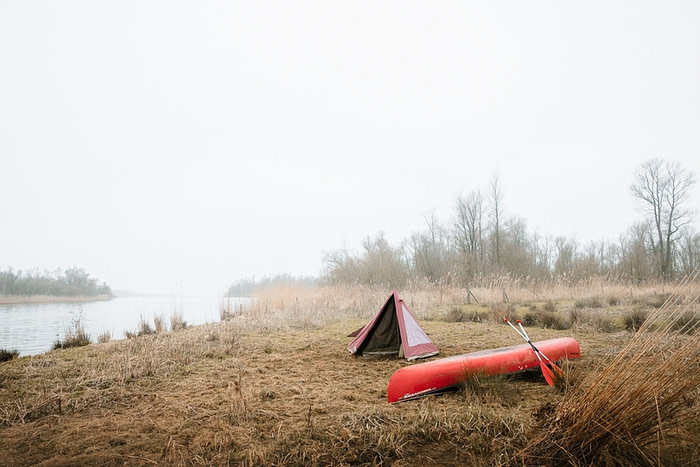 This winter I had the honour to try out a tent for Alpino. I decided to test it with my little brother on a canoeing trip in the Biesbosch, a large freshwater tidal area in the Netherlands. It was a cold and foggy morning. so we packed our backpacks with warm clothes and lots of snacks. When we arrived at the Biesbosch, we rented a canoe and set off into the misty waters.
As we paddled deeper into the Biesbosch, we were surrounded by such a serene and peaceful atmosphere. The only sounds we could hear were the splashing of our paddles in the water and the chirping of birds in the distance. We navigated through narrow canals and open lakes. We saw so many different kinds of birds, including grebes, geese, and swans. The scenery was breathtaking, and I felt really grateful to be able to experience it together with my brother.
After a few hours of paddling, we found a cozy spot near the water to pitch the tent that we brought for Alpino. The tent is called the Hoggar, a 2-person tent, perfect for adventures like this. It was very easy to set up and I just love the classic looks of it. The cotton fabric of the tent brought some nostalgic memories of camping when I was a kid.
When the night began to fall, we noticed a rustling in the bushes nearby. We turned our heads just in time to catch a glimpse of a beaver. Such a special moment! The next morning, we cooked up a hearty breakfast of oats and some tea before packing up the tent and hitting the water again.
Winter in the Biesbosch was just as I hoped it would be: peaceful, quiet and a perfect escape of the hustle and bustle of everyday life. And because we just kept moving it was not even that cold. It was a great opportunity to try out the Alpino tent and see how it would perform in cold weather. It ended up being such a warm and comfortable shelter. I think the tent was perfect for an adventure like this!