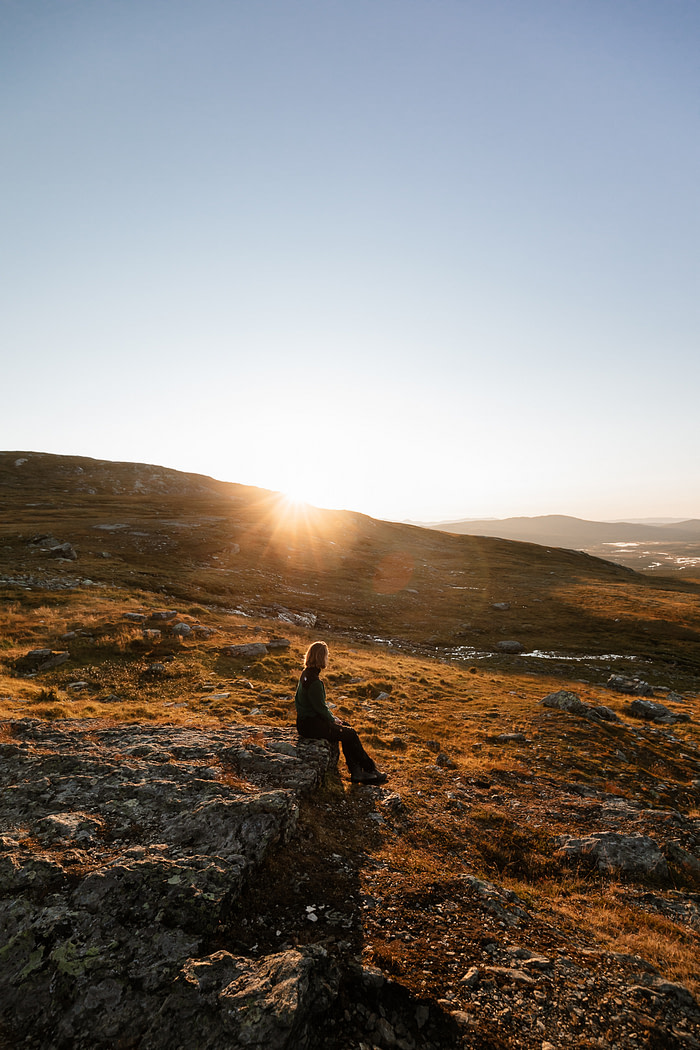 Hiking the Jämtlandstriangeln (Jämtland Triangle) is an experience that will leave you breathless. Located in the heart of the Swedish mountains, this trek takes you through some of the most stunning landscapes in the country. The Triangle is a 47-kilometer trail that takes you across three mountain stations: Storulvån, Blåhammaren, and Sylarna. We did the Jämtland Triangle in reverse, starting with the Storulvån – Blåhammaren section. Summer is the most popular season for hiking in Sweden, but personally I love being there in September, when fall starts to kick in with its warm tones and moody weather.
Storulvån - Blåhammaren (13 km)
On the first day of our journey, we hiked from Storulvån to Blåhammaren, covering a distance of approximately 13 kilometers. It was the shortest hike of the trip, and we stayed at Blåhammaren mountain station for the night. The weather was warm and sunny, with the fall colors of the mountains in full display. Blåhammaren was a small and cozy station, but with all the necessities for a comfortable stay.
Blåhammaren - Sylarna (19 km)
On the second day of our journey, we hiked from Blåhammaren to Sylarna, covering a distance of approximately 19 kilometers. It was a longer hike, but the good weather conditions made it very doable. There were the occasional muddy sections and river crossings, but overall the trails were surprisingly good. Sylarna is one of the bigger mountain stations, and it was intriguing to see that there were so many people from all directions coming together here. 
Sylarna - Storulvån (15 km)
On the third day of our journey, the weather changed and it became cold and moody with heavy mist and occasional rain. While the conditions added a layer of mystery to the landscape, the hike was not particularly challenging as we were descending back to Storulvån, covering a distance of approximately 15 kilometers.
One of the highlights of the hike was the opportunity to see reindeer up close. The Jämtlandstriangeln is known for its reindeer population, and we were fortunate enough to spot several grazing along the trail. These gentle creatures are an integral part of the local culture, and seeing them in their natural habitat was a truly unforgettable experience.
The Jämtland Triangle is an ideal choice for those who want to explore the Swedish mountains in a beginner-friendly way. With comfortable mountain stations, well-marked trails, and beautiful scenery, it offers a unique opportunity to connect with nature and experience the great outdoors. For those who want to take the adventure to the next level, bringing your own tent allows you to camp in the wilderness and explore even further. Whether you're a seasoned hiker or a first-time explorer, the Jämtland Triangle is a journey you won't want to miss!